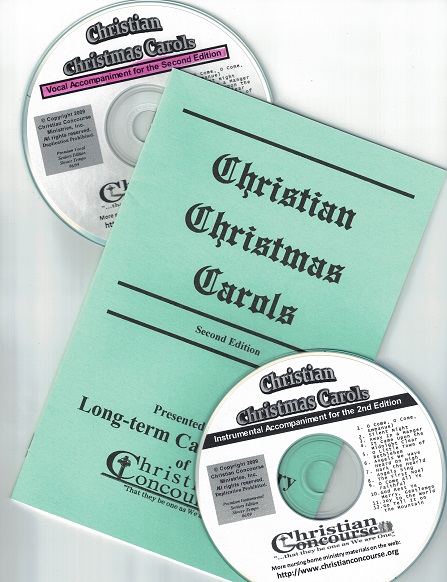 Large Print Christian Christmas Carols
Booklet w/ CDs
Brighten spirits and put smiles on quiet faces with the memories that these favorite old Christian Christmas Carols bring to mind!
Every year, by God's grace, we produce and distribute large-print "Christian Christmas Carols" and accompanying instrumental and vocal CDs. This is our second edition. It includes twelve favorite old Christmas carols in a 5 1/2 by 8 1/2 large print format. The carols are in the Trebuchet MS font, sized at approximately 18 point. We try to have these available in the early Fall. Place your order for them in the Fall. We will get a package to you in the U.S. mail at no charge to you, as long as supplies last.
In addition to the carols in the hymn booklet, there is large print scripture included which encompasses the Christmas story as told in the Gospels (taken from the King James Version).
We have produced a companion DVD also for use during the Christmas season. This 40 minute video uses the hymns and scriptures in "Christian Christmas Carols" and for the visuals, we provide yuletide photos mostly of a large manger scene collection. It is called "The Birth of Christ." Please remember to ask for your copy (or copies) when you call to order hymn booklets.
We must stress that, as is the case with all of the resources and materials available through Christian Concourse, these nursing home ministry tools are NOT FOR SALE! We will give you as many as you need as we are able. All of our materials are produced expressly for the benefit of residents in long-term care settings. We are asking you, the nursing home ministry volunteer or the staff member of a care facility, to help us place these handy ministry resources in the hands of the residents that you love and care for. It is our honor to be of some assistance. Contact us in the fall of the year for more information and to place your order.
These little booklets are great for group caroling through the halls of a nursing home and, with the CDs, for use in sing-alongs with the residents.
Below is a listing of the carols included in "Christian Christmas Carols." To listen to and download ".MP3" files of all of our instrumental and vocal accompaniment selections for these Christmas favorites (also available on CD) …..CLICK HERE…..
Oh Come, Oh Come, Emmanuel
Silent Night
Away in a Manger
It Came upon the Midnight Clear
O Little Town of Bethlehem
Angels We Have Heard on High
Hark, the Herald Angels Sing
The First Noel
Oh Come All Ye Faithful
God Rest Ye Merry, Gentlemen
Joy to the World
Go Tell It on the Mountain