Below are some of the testimonials that friends of Christian Concourse have sent to us in recent years.
---
Dear Johnson Family,
My church group and I have received your wonderful materials by mail for our Nursing Home Ministry. We are so thankful to have these resources to use with our residents at M______ C_____ Nursing Home in ______ . They love the messages and wonderful music. You were an answer to our needs. God Bless You and your efforts in this ministry.
Affectionately,
J. M.
---
Dear Mr & Mrs. Johnson, 
I want to express my deep heartfelt gratitude to both of you; the hard work, time, and efforts you both put in to the Christian Concourse ministry.

The materials arrived a few days before our first actual "service." Which was an enormous blessing to say the least. We were able to utilize the CDs and booklets at this first gathering. Our first meeting was the week before, more of a "meet and greet" then service. There were only 4 residents that attended this. However, this past Saturday, we had 12+ residents attend our first actual service. This was an amazing blessing from our Lord! Who promises to do "abundantly more then we could ask or imagine"; this past week was true evidence of that promise! Also before the end of the service, a few more residents came in to play bingo afterwards, so in all about 16 people got to hear the gospel at the end of the service!

Thank you both, the service would not have been the same without your efforts to send the materials we used to bless so many! The fruit of your labor is never in vain, and always will bring Glory to our Lord's Great Name! Blessings and Grace be overflowing to you from His Merciful Hands!
In Christ, E. M
---
It's 11pm on a Saturday night and I discovered your website and have been printing hymns for a nursing home I am going to tomorrow to do hymn singing. Thank you for giving to the Lord. I am soooooo excited about using these hymns and verses at the bottom of each hymn. May God richly bless your work as you are blessing others. I cannot sleep with joy and excitement of doing this ministry and finding these resources. Thank you,
thank you. Praise the Lord.
T. A. – From Northern Ireland
---
Christian Concourse,
You've sent a number of hymnals and books over the last 4 years that I've been ministering to the Body of Christ in the nursing home in Texas. I just wanted to take a minute to encourage you in your ministry. Because of you, many brothers and sisters in Christ have passed on to their reward with peace in their hearts and serenity on their faces. God Bless you all,
F. M.
---
Thank you, Jerry and Dar, for your faithfulness in your ministry to all the folks in our nursing homes! You are such an encouragement to us! God bless & have a Very Merry Christmas!
K. and L. G.
---
Hi, Jerry and Dar,
I continue to marvel at how awesome you two are and how your work keeps glorifying the Lord. We are truly blessed to have friends like you that inspire and encourage us to keep on keeping on.
J. F.
---
Jerry and Dar,
Thank you for your continued love and commitment to meeting the needs of our Seniors. The resources you have developed are helping so many stay connected, or get re-connected to their spiritual heritage. They desperately need encouragement in their faith and to draw strength from the One Who loves them so!

"All praise to Him who reigns above In majesty supreme,
Who gave His Son for man to die, That He might man redeem!"

In Christ, Chaplain K. R.
---
Hi Jerry,
Thank you for speaking with me today. I am so thrilled about your ministry! After our conversation, I clicked on your devotionals. What a blessing and it is a huge answer to my prayer from this morning. I have a nursing facility visit scheduled for tomorrow and my ministry partner (and speaker) had to cancel! I asked God to help me and I came across your website and devotionals. This is perfect for my meeting tomorrow. Thank you Johnsons and thank you Jesus!
C. W.
---
Hello Brother Johnson,
Thank you so very much for the beautiful yellow songbooks (Hymns of Our Redeemer) you recently sent us. Our Parkside Baptist Church Chapel on Wheels Homeless Ministry meets in downtown Dallas every Saturday morning at 11 AM. The photo is from Saturday morning's service. We typically sing four or five congregational hymns before the special music and the preaching. We had five that trusted Christ as their personal Savior this past Saturday! Thank you again and praise the Lord for the fruit to your eternal account! In Christ,
D. P.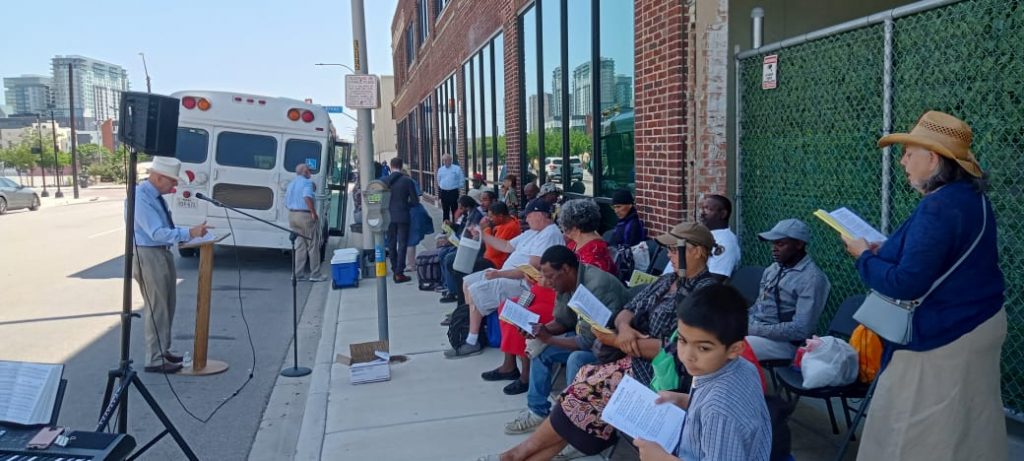 ---
Those At [Christian] Concourse Ministries, Here's a gift to help cover some of your costs. Just wanted to thank you for the songbook, CDs, etc. sent to us for nursing home ministry. We use them each week :). So helpful and Big Print. Some enjoy reading the scripture at bottom of each page or want a book to keep. 🙂 Appreciate your Ministry,
C & B B
"Asking God to bless you in return for the thoughtfulness you've shown"
---
Along with 3 friends, I've been conducting worship services in a local nursing home for about 12 years, going in one Sunday per month on a rotating schedule, alternating with several other area church groups. It's always a huge blessing to us and we have made many lasting friendships with the dear folks who live there and who work there. We are always looking for new ideas and found some on your website. We are so thankful to God for putting it into your hearts to make this all free to those who are seeking to minister to those in care facilities. Thank you so much for sharing what the Lord has given you!
Sincerely,
P. B.
---
Hello, I have been using your CDs and hymn books at 2 nursing homes that I visit on a regular basis, and just requested 5 copies of your adult coloring book.* I received the copies and took them to the nursing home I visited yesterday….these books are beautiful and awesome and just looking at them gave me peace and comfort of the Lord and brought tears to my eyes! The residents are going to love them! The activities director asked if I could get 20 more copies, possibly in time for Easter. Is that possible? I told her that they are also available for download from your website, but she asked if we could get the books from you if possible. Please let me know. Your resources are a very great blessing to me, to the activities directors, and to the residents. Thank you for your hard work to make these resources available, and thank you for your service to the Lord.
J. B.
* NOTE: we do not always have hard-copies of the coloring books available.
---
Hello Brother Johnson,
Thank you so much for your important ministry! We'll put those booklets to good use in our downtown Homeless Ministry! Thank you again and keep looking up during these "perilous times!"
In Christ,
D. P.
---
Dear Friends at CHCO,
Grace and peace to you from God our Father and the Lord Jesus Christ. On the eve of Good Friday, I want to thank YOU for your sacrifice and ministry to others – in particular our people in nursing home settings and those who serve them. Thank you!
I am requesting the following materials from you:
– Favorite Hymns of Grace: 15 copies (I have the CD – thank you!)
– Hymns of Our Redeemer: 35 copies and accompaniment CD.
Our residents here at [our facility] are so appreciative of these resources, as am I! I am using them in all 3 Chapel services that I oversee on Fridays. They are easy to read, easy to hold, look professional, and the CD is a blessing when I'm short of musicians and vocalists. Again, thank you!
In HIS Service,
B. G. | Chaplain
---
Thanks so much for what you do. I promise and assure you these song books will be used regularly to spread cheer and comfort to our dear senior community. God Bless
P. B.
---
Thank you so much for the beautiful Hymn Booklets! I'm looking forward to using these next week at our NH chapel service! I hope [a donation amount] helps with your work that you do there to bless the elderly. I'm thankful for these.
Blessings!
M. T.
---
Hi Jerry and Dar,
A note to tell you how totally special to – us – you two are! I think about you and pray for you regularly. I just don't say it often enough. Thanks for all you do in your ministry, and for being our friends.
Love you guys, J. and L.
---
Dear Friends,
I was blessed earlier this year when you mailed me your big-print songbooks. They have been put to good use, as I bring the songs to shut-ins, widows and hospice patients. Please use this contribution as needed, to continue your wonderful work for the Lord.
Thank you, S. S.
---
Dear Bro. Johnson,
I am sorry for the delay in writing to thank you for all the song books, CDs, coloring books and colored pencils!! You are so generous in supplying these ministry materials. In June (2021) I returned to my two assisted living facilities to give devotions and sing hymns. I've been running 29-31 folks in one of my facilities. Your Hymns of Grace remains a favorite. God bless you richly for your heart for Him and His people.
Chaplain K
---
Jerry & Dar,
Thanks so much for that uplifting letter. The content is so very true about all goes to the glory of God. It's a beautiful tribute to the Lord regarding the ministry into which we were called. We have been able to continue with our care center during the entire pandemic. Each week we deliver a package with personalized cards
produced in collaborative effort to share a message. Of course a 'treat' (snack) is also included. That has worked so well. So many other volunteers have found their creative ways to keep contact. The color copies are a special treat since all printed items are black/white at the center. The monthly 'newsletter' is run off on colored paper. I've attached our Feb. cards thus far…just FYI. We have mainly dementia residents…at various stages of the disease. Praising God for both of you and your ministry.
In HIS love,
j c
"May our God of HOPE fill you with all JOY and PEACE as you TRUST in HIM
so that your heart will overflow with HOPE through the power of the Holy
Spirit in you." Romans 15:13

Psalm 47:7 & 8 (NIV)
For God is the King of all the earth; sing to Him a psalm of praise. God reigns over the nations; God is seated on His holy throne.
---
Dear Dar and Friends at CCM,
Thank you VERY much for the song materials. They arrived last Friday and I'm using them already. The big print & selections of timeless favorites are perfect. Praises will sing and ring out straight to the Throne of God.
S. S.
---
Thank you so much for the special hymnbooks for my residents. They were so blessed and thrilled to have them. I've been enjoying the CDs before taking them for the residents to sing along with. Your ministry name will remain in my files and prayers. Thank you again,
C. W.
---
Dear Bro. Jerry,
It was so good to meet you on the phone when we called to inquire about the ministry you and your wife have to supply resources to use with shut-in's and nursing homes, etc.
We wanted to let you know we received your box of generous supplies and everything was all in good shape! PTL :>) We are so excited to have it to use when we have church services with them! We wanted to send you a donation to help replenish your stock to help others! Thank you so much and may God bless you, your wife and the ministry!

Friends in Christ,
D. and S. R.
---
Gerald, I just want to THANK YOU for the wonderful CDs and DVDs you sent me a few months ago. I apologize for not writing sooner. I visit 2 nursing homes, one weekly and the other one every other week. I am using your CDs for our hymn time. The residents love them! I printed the giant print words for the CDs from your website and made booklets.

I gave both nursing homes a copy of the DVDs for their use throughout the week. You did a wonderful work with these! They are a blessing to the residents.

I am now allowed to meet with groups of residents. During "COVID," one home had been closed to visitors and the other only allowed single resident visits through a glass door. It is a blessing to be able to minister to a group again, and your CDs take the stress out of gathering appropriate music, writing the lyrics/words, etc. You are a blessing to the residents and to me. I am thankful that God directed me to you. Please accept my donation.

In Christ,
J. B.
---
Dar and Jerry
Thank you sooo much for all the music and materials you supplied for the Activity Engagement Kits for Seniors with Dementia. The PURPLE BAGS were full [of] activities and perfect at this time of the year [Christmas] for people in the community. I just want to share with you what a friend of mine said about the kit she took to her parents' house: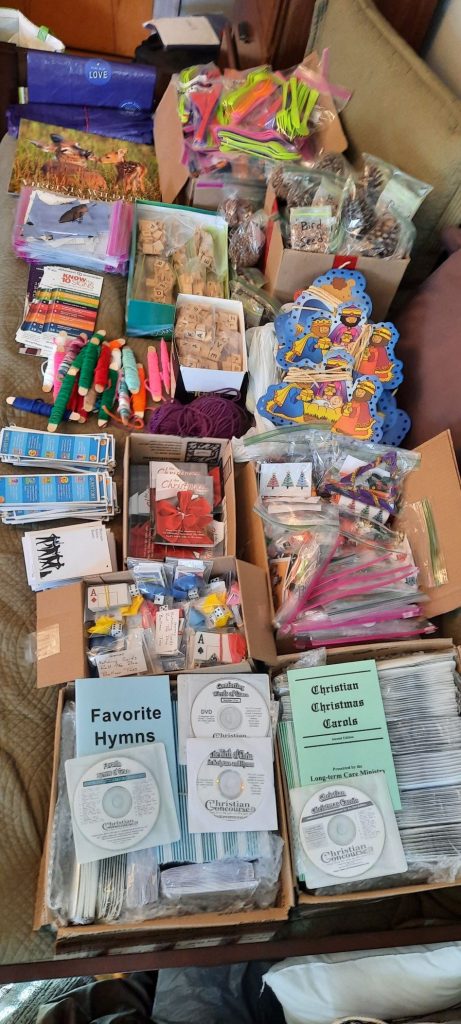 "M- – – – – – -, Everything in the purple bag is wonderful! Especially the cd's – with the words to the music. My mother sang all weekend! Thanks so much!"
So many people will benefit from these bags – I'm hoping the contents and the handout will help caregivers to feel more comfortable engaging [these seniors with dementia] rather than just having them sit in front of a TV and sleep all day.
M K
---
Dear Jerry & Dar – Thank you so much for the package of CDs, booklets and coloring books. [NOTE: Coloring Books are usually only available via download.] I received them on Wednesday when I ordered them on Monday. How fast!!! Cannot wait to distribute this wonderful material for all the nursing homes we minister to in Jesus' name. This will be the highlight of our Christmas package included with Christmas cards for all the residents. We really appreciate your materials and your kindness.
God bless. Merry Christmas.
D. L.
---
Hi Jerry & Dar, Thank you so much for the materials you sent to me. I know they have been and will continue to be a blessing & encouragement to the residents. I'm glad for the the CD Accompaniment for the hymns as I don't have a pianist due to COVID-19. I so appreciate your ministry and your faithfulness over the years.
God Bless You Richly, Ernie.
---
Good Afternoon, I just wanted to let you know that we received your generous package. My staff are all super excited to start using the materials that you sent us. The Residents will be so appreciative as well. You are all doing such an amazing thing for the Long Term Care Residents, and most of all during the unfamiliar times that we have had to learn to adapt to. May God bless each and every one of you for the work you are doing to help others. Stay safe and stay healthy.
Regards, Lisa
---
Dear Dar and Jer– The coloring books arrived today, and I was very happy with the messages of hope and courage–just what our endangered seniors need! As soon as I can I will order some colored pencils to distribute with the coloring books. Awesome good work!
Blessings,
Rev. Tina
---
Good evening Beloved,
I pray all is well with you both and you are taking precautions to stay healthy.

I am  bringing the Word on Sundays and singing hymns during the week to residents in 2 different assisted living/memory care facilities and they love the hymn books.  In fact, there are a few who decided to keep their copies because they sing in their rooms during the week.  I love it!

I visited another facility to see about living arrangement and when they found out what I do, immediately tried to get me to do the same for them.  There is another facility being built near me and they already contacted me because of word of mouth.

I can't accommodate all the facilities and I feel the Lord is calling me to begin a ministry which I can send out clergy and laypersons to hold services and sing with memory care residents.  He's showing me there is a great need.  I've always been a women's ministry leader but God has changed that and I stand in awe.

I am so thankful for your ministry.  I don't know what I would do without you.  What a powerful and much needed ministry!  You reach so many seniors who truly appreciate having the words and music to the hymns.  To see their faces light up when we sing is truly a blessing.

That being said, I would like to order at least 40 copies each of "The Love of God" and "Psalms of Comfort."  I know the residents will love them.

I know this is a long email, but  I wanted to share my testimony and thank you again for all you do.

May God continue to bless all your endeavors,
B. C.
---
Good evening Jerry and Dar, I pray all is well with both of you. I truly miss being with the residents at the assisted living/memory care facility. We were able to hold 3 worship services outside while the residents watched from the patio. Since the weather turned hot, we were told we won't be able to come back for a few weeks. However, I send them prayers every week.

I love the fact that you now have coloring books. This would be wonderful for the residents. They would get the Word as well as have an activity. When you are able I would like to request 50 copies.

You continue to amaze me with all the things you do for our seniors. What a blessing you are and believe me so appreciated. To God be the Glory! May God continue to bless your endeavors.
B. C.
---
I thought a written note would make an extra import in this day of emails, texts, etc. Your February newsletter was encouraging as are all the ones in the past. It is a boost to us volunteers to read all your good cheers.

Reading those statistics brought to the forefront the impact this ministry we are all part of reaches this special population. Whenever I am able I sing praises to Christian Concourse and Jerry and Dar. The Lord just keeps providing the pray-ers and resources to sustain your generous work.

Not only do I use these song booklets in a group setting, but several copies are in my bag as I do one-on-one visitations. We can then sing a duet or just read the hymns which usually leads to discussion and/or prayer.

May the Lord keep growing you and Christian Concourse as the ministry reaches more and more residents. Thanking God for you both for answering His call.

In His Love,
J. Cz.
---
Dear Jerry and Dar,
Your box full of goodies for our nursing home arrived almost a week ago, but today was the first opportunity we had to "test drive" them in our Hymn Sing. The residents *loved* the large-print mini-hymnals and I do think it improved participation. There was also great interest in the scripture materials you provided, so thanks very much for including them.

I can't begin to express my appreciation for your ministry and for your vision in serving the nursing home community. Budgets are very tight and we would perhaps have to do without such wonderful resources were it not for your generosity and of those who support you. Please accept our heartfelt thanks for these materials, which will be an encouragement to God's children and bring glory to our Savior. May His richest blessings be yours!

With sincere thanks, K. A.
Pennsylvania, USA
---
Dear Jerry and Dar,
What a WONDERFUL idea for our senior adults, providing an activity for them to do in all of their spare time! [Christian Adult Coloring Books] Thank you for being pro-active and not stopping the wonderful ministry that you have, providing materials for us who work in skilled nursing facilities, nursing homes, assisted living facilities, etc. I work full time (at age 64) at a local facility and we've ordered your wonderful hymn books over the last few years. As a retired elementary music teacher (2015) I've loved leading our residents in "Gospel Hymns Around the Piano with _ _ _ _ _" on our monthly calendar of activities. And then COVID-19 hit and we had to stop "group" activities. But that didn't stop us! I printed out your encouraging newsletter to residents affected by COVID-19 and passed it out to our residents. I know they enjoyed hearing those uplifting words you sent directly to them! We continue to meet in one of our regular activities to sing the hymns out of your yellow "Hymns of Our Redeemer." I've given them their own copy to keep since we can't sanitize those. They hunt their copy up each time to bring to the gospel hymn sing as we gather in the hallway spreading 6 feet apart and wearing those uncomfortable masks trying to sing through them the best we can! It's hot, uncomfortable, but we're determined that nothing will stop us singing our praises to the Lord!

I'm so excited to have another resource from Christian Concourse to pass out to our residents! If possible, please send 25 copies of "God's Love and Grace" coloring books ASAP! The next time that we have a hymn sing, I'd love to bless each attendee with a copy of your letter and a coloring book to take back to their rooms, having a delightful and uplifting time coloring and meditating on God's promises!

Thank you again for what you 2 do, ministering to our precious senior adults. God bless you and continue to keep you going strong! To the glory of God!
|
Sincerely, M. G.
---
We are writing to say thank you for your recent donations to the "S—– Prayer Gospel Ministry." Your support has repeatedly played a key role in our success. We are currently ministering in five care centers. Our desire is to carry the Gospel and "Favorite Hymns of Grace" to all the nursing homes throughout our city and to those who are not physically able to make it to a local church. There is no way to fully express our gratitude. Thank you again for your compassionate support.

With warm regards, Rev. E. G., California, USA
---
Dear Jerry — Thank you SO very much for your generous shipment of the 40 songbooks & CD. I can't tell you how blessed I felt receiving this wonderful resource! You have certainly been used by the Lord in SO many ways. Your music & messages are PERFECT :). May the Lord Himself repay you for serving Him so faithfully!

Dear Dar — It was so nice chatting with you about so many interesting topics last Monday…what fun! A BIG THANK YOU for your very important supporting role to your husband & Christian Concourse Ministry! You & Jerry are quite a mighty team for the Lord! God's blessings on you today,

B. S.
---
Dear Jerry and Dar Johnson, Thank you so much for the recent gift of the 30 mini hymnals! We were able to add to our supply at the nursing home where we conduct monthly services, as well as be prepared for new worship services that we will add at S—— Senior Living where we currently conduct Bible studies. Our little ministry is young and we thank God for His faithfulness and thank you for your kind generosity! May God continue to bless all the good you do in His name! Thanks again,

K. R., Virginia, USA
---
Dear Brother Jerry and Sister Dar, We are truly blessed to know good friends like you.  Even though we have only spoken over the telephone it seems like we have known one another for life.  God is good.  God will always put His children together.  It is a joy.  We are truly thankful for all that you do in your ministry.  Christian Concourse Ministries adds to our ministry.  We are blessed to minister to many souls in the various nursing homes.  The staff as well as the loving hearts enjoy using the hymn booklets that you donated to us.  Again, we must say, God is good.  To God be the Glory!

J. & S. B.
P. S. We can't wait to hear the Christmas CD!
---
"Dar & Jerry, It was very generous of you for the recent donation of gospel books and CD. My residents are thoroughly enjoying them. I am a true resident advocate and believe in giving my all. It's nice to know there are still folks out there who share my beliefs. Thanks again."
J. K. – From an activity director in Maine, USA
---
"Thanks so much for the gift of hymn booklets and CDs. They will be a wonderful resource. All of the hymns and carols are known and loved among our residents. God bless you, and thanks again for helping us out in this way. Sincerely,"
H. G. – From St. Paul, Minnesota, USA
---
"We use the "Favorite Hymns of Grace" songbooks and CDs. The residents really connect to the hymns they grew up listening to. I know the residents will enjoy the music. I can tell you put a lot into making the vocals just right! Thanks for your ministry! Be Blessed,"
A. A. – From a Nursing Home Minister in Merrifield, Va., USA
---
Can't begin to express my appreciation for your ministry and for your vision in serving the nursing home community. Budgets are very tight and we would perhaps have to do without such wonderful resources were it not for your generosity and of those who support you. Please accept our heartfelt thanks for these materials, which will be an encouragement to God's children and bring glory to our Savior.
K. A. – From Hampton Roads, Va., USA