Although normal supplies are adequate, the residents of long-term care facilities, especially nursing homes and assisted living facilities, could often use personal items and clothing. There are many opportunities here for small groups and local churches to be a blessing in a tangible way to these sweet people. Below is a flyer you can download and use to promote the "care package program." On it is the list of items approved by activity directors to bring to the facility.
There are a number of ways you can go about sharing your gifts. Of course, you will need to contact a local facility to coordinate your intentions with the activity director. You can accumulate them and take them gift wrapped for Christmas or monthly birthday parties. Label each gift-wrapped package with a tag identifying the content. Also, you can deliver them loose to the activity director at a facility near you for them to distribute at their discretion. See below for a ".PDF" version of the flyer.
Care Packages For Your Friends At Local Nursing Homes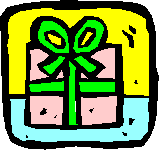 Help show these sweet people that they are not forgotten! Pick up some of the items from the list below on your next trip to the store. Call your local nursing home, make arrangements with the activity director and deliver your gifts with a big smile!
| | | |
| --- | --- | --- |
| Combs / Brushes | Wrapping Paper | Cellophane Tape |
| Regular Socks | Warm Socks | Ribbons |
| Lotion | After Shave | Deodorant |
| Tone / Dove Soap | Small Cologne | Toothpaste |
| Jewelry | Polident | Lap Blankets |
| Puzzles | Change Purses | Blush (Rose) |
| Nail Polish | Scarves | Emery Boards |
| Polish Remover | Slumber Caps | Mouth Wash |
| Hair Rollers | Panti-Hose | Knee-hi's |
| Stationary | Writing Pens | Powder |
| Audio Tapes | DVD's | Shampoo / Rinse |
| Lg. Print Bibles | Note Pads | Small Kleenex |
| Hair Tonic | Gloves | Wallets |
| Baby Dolls | Ethnic Baby Dolls | Stuffed Animals |
For a ".PDF" version of our "Nursing Home Care Package Flyer" click here: Nursing Home Care Package Flyer.