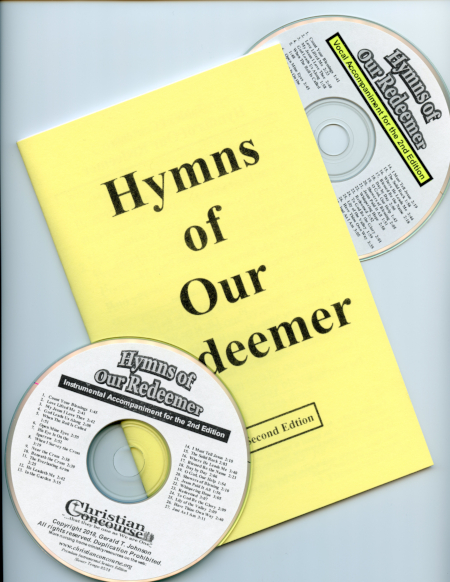 Hymns of Our Redeemer
Spark the memories and ignite the faith of our friends
living in long-term care settings. NO CHARGE!
To compliment our flagship hymn booklet, Favorite Hymns of Grace, Christian Concourse prints and distributes another large-print "hymnal" specially for use in long-term care facility ministry which we call, Hymns of Our Redeemer. Measuring 5 1/2 by 8 1/2, it too is a lightweight paperback that includes the words to 27 old-time favorite hymns listed below. (The music score is not included.) The hymns are in Times New Roman font, sized at approximately 18 point. There is a two-page summary of the Gospel message and three pages of favorite, large-print scriptures adapted for the modern reader from the King James Version. Every song has a relevant passage of scripture included at the bottom of the page.
To provide musical accompaniment for Hymns of Our Redeemer, we have produced an instrumental and a vocal CD. The songs on the CDs are in the same order as they are in the booklet.
For ".MP3" music files of our instrumental and vocal accompaniment for "Hymns of Our Redeemer" that you can listen to and download….CLICK HERE….
The hymn booklet and the CDs are available to volunteers who do nursing home ministry and activity directors (or other staff) of care centers. All you need to do is simply contact us by phone, email or written note.
These ministry tools are NOT FOR SALE!  We will give you as many as you need as long as we are able. All of our materials are produced expressly for the benefit of residents in long-term care settings.  We are inviting you to help us put this resource in the hands of the residents you minister to. Again, as our resources allow, we will send them at no charge to you via U.S. Mail.
As we print, collate, staple, fold, trim, count, box and mail each of these little booklets, we do so with prayer motivated by compassion for the residents that you, the volunteer on the front line, minister to. We pray God's blessing and the anointing of the Holy Spirit on your labor for Him to the elderly and the infirm.

Songs in "Hymns of Our Redeemer":
Count Your Blessings
Love Lifted Me
My Jesus, I Love Thee
God Leads Us Along
When the Roll is Called
Open Mine Eyes
His Eye Is On the Sparrow
When I Survey the Cross
Near the Cross
Beneath the Cross
The Everlasting Arms
He Leadeth Me
In the Garden
I Must Tell Jesus
The Solid Rock
Where He Leads Me
Blessed Be the Name
Day By Day
O God, Our Help
Showers of Blessing
Jesus Paid It All
Whispering Hope
Redeemed
To God Be the Glory
Lily of the Valley
Have Thine Own Way
Just As I Am
Large Print Scriptures included in the back of the booklet:
Psalm 37:4-5
Psalm 91:1-4
Psalm 100:4-5
Psalm 103:2-4
Luke 1:68
Romans 3:21-24
Romans 6:22-23
Romans 8:38-39
Romans 12:1-2
1Corinthians 13:4-8a
Colossians 1:12-14
To read the two summaries of the Good News of Jesus Christ that we include in both "Hymns of Our Redeemer" and "Favorite Hymns of Grace" ….CLICK HERE….
For individual pages of giant print versions of all the hymns in "Hymns of Our Redeemer" and "Favorite Hymns of Grace" in ".PDF" format that you can download and print …..CLICK HERE…..