Greetings Friends!
Here we are, sending our love, our gratitude, and our prayers to you with our little monthly letter again. We pray you are doing well and staying healthy, especially as the world around us reels from the effects of this new virus. My, how things can snowball in a few short weeks! As we prepare this newsletter, we are mindful of the possible escalation of this international crisis. We all may be facing some very inconvenient circumstances before this is over. And, of course, we cannot take lightly the potential of contracting such a life threatening infection. It behooves us to be informed of the counsel of authorities and to heed their advice. In these circumstances, taking risks with our own life can result in our spreading that risk unnecessarily to others who may be far more vulnerable than we might be. Be careful and follow the advice of the experts!
Yes, the facts are frightening. Years ago a traveling preacher named Tommy Lewis made an observation that ministers a very simple, but profound reality for us to hold on to today: the fact was that Lazarus was four days dead in the tomb…the truth was, "Lazarus, come forth!" To put it another way, our Lord gave us the 46th Psalm to help us focus on eternal truth in the face of dangerous temporal times like these:
1 God is our refuge and strength, a very present help in trouble. 2 Therefore we will not fear, though the earth be removed, and though the mountains be carried into the midst of the sea; 3 Though the waters thereof roar and be troubled, though the mountains shake with the swelling thereof. Selah. 10 Be still, and know that I am God: I will be exalted among the heathen, I will be exalted in the earth. 11 The LORD of hosts is with us; the God of Jacob is our refuge. Selah. (Psalm 46:1-3, 10-11 KJV)
And, no matter what happens, good or bad, peaceful or troublesome, pleasurable or painful, joyful or sad – in the face of it all, we can be encouraged that our trials do not have the last say in our life; our life rests securely in the hands of the One Who walks and talks with us in the sanctuary of our hearts. God Almighty, Maker of heaven and earth, is our refuge AND our strength!
16 …we faint not; but though our outward man perish, yet the inward man is renewed day by day. 17 For our light affliction, which is but for a moment, worketh for us a far more exceeding and eternal weight of glory; 18 While we look not at the things which are seen, but at the things which are not seen…. (2Corinthians 4:16b-18 KJV)
Oh, dear friend, we do sincerely pray that your health prospers even as your soul prospers in your relationship with Jesus. Each of you are an expression of Christ's love and kindness to us. We thank you so much for being there!
Sincerely,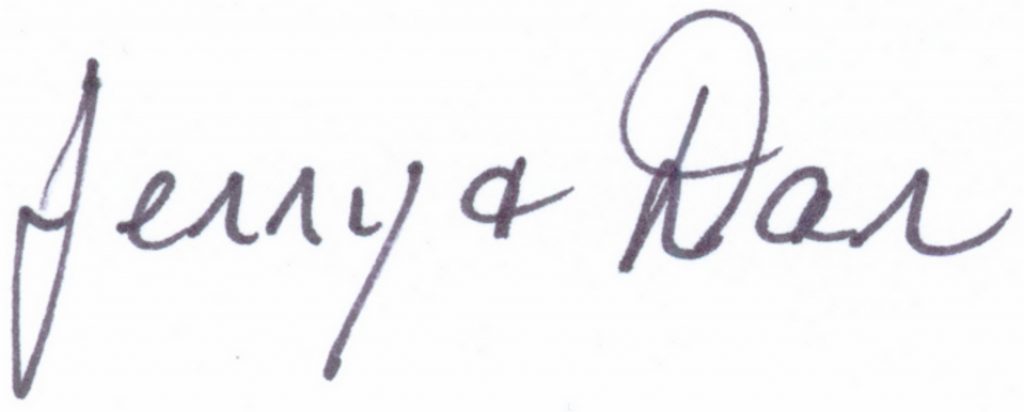 Jerry and Dar Johnson